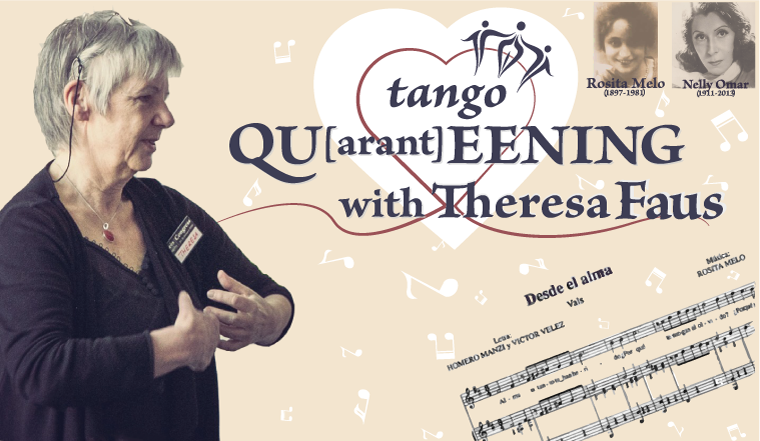 Women In Tango History
Something for the music lovers!
Theresa is known as an international Tango DJ in the Encuentro Community. Many people also know her as a host of 'Bailongo' in Munich, Germany, which she established fifteen years ago. We had the great opportunity to meet Theresa at the Tango Queens Congress 2020, as a connoisseur and expert of Tango music: history, orchestras, composers and lyrics. Her appearance in the Congress was a delight, she enriched it with her profound knowledge and deep insight on women in Argentine Tango history which we now want to share with you.
Did you know that one of our favorite tunes "desde el alma" was composed by a 14 year old girl? Curios? Good.
Theresa's carefully researched presentation will cater to both newbies who want to learn about their favorite tango tunes, but also the seasoned "Tango nerds" who want to know more. 🙂 We can't wait to share this with you!
What are we offering?
We are offering Theresa's presentation on "Women In Tango History" live on Zoom exclusively for Tango Qu[arant]eening. The session will take place on Saturday 2nd May at 16:00h Central European Time. Theresa will be available for a Q&A directly after her presentation, to answer your questions.
Surprise! SURPRISE!!
Due to popular demand and for a limited period... we will make the recorded Zoom video available to you on our website!
So you can still register, make a kind donation and watch Theresa's presentation and the Q&A
How does it work?
Step 1: If you are new and do not have an account on Tangoqueens.com yet, please sign up as a Member - HERE. If you already have an account at tangoqueens.com there is no need to register again. Please contact us at info[at]tangoqueens.com. with the subject "I WANT TO JOIN" and your full name. We will then send you further instructions via email.
Step 2: If you're a New Member, we will ask you to donate via our GoFundMe page - there is no minimum required, but we appreciate your generosity! If you've participated in the Tango Queens Congress, we will give you the access for free (of course, you're still welcome to make a donation)
Once we have verified your donation / attendance at TQC, we will grant you access to Theresa's presentation on our website
Step 3: Once we have verified your donation / attendance at TQC, we will grant you access to Theresa's presentation by forwarding you Zoom Link and Password.
Step 4: The Zoom session is live. It will be held on Saturday 2nd May, 4pm Central European Summer Time.
How much?
Any donation is welcome. It's FREE for the Queens who joined us at the 1st Tango Queens Congress!
How will we use the money?
All profits will directly support our Tango friends who have lost means of gaining income, due to the COVID-19 situation.
Some money will also go towards the TQC Project, allowing us to bring you more content for the events to come.
Who can join?
ANYONE and EVERYONE! Yes, that means our lovely Tango Kings, too. We want this to be an inclusive and widely available initiative, so please spread the word.
Technical requirements?
Internet access and ability to playback online videos 🙂
To be able to join the Zoom presentation you need to install the Zoom App on your computer or smartphone. If you cannot install the app, you can use the web browser version - you need Google Chrome and the Zoom Link + password to dial in that way. Please read the instructions guiding you to the installation carefully.
Keep in mind, that Theresa will be showing a presentation, so for the best experience, you might prefer a bigger screen (e.g. laptop will be better than a smartphone).
I'm keen!!